Easily Find High-Authority Expired and Deleted Domains
A comprehensive database of domains and easy-to-use filters wrapped up in a modern user interface that makes finding domains for your new niche website or PBN blog a breeze.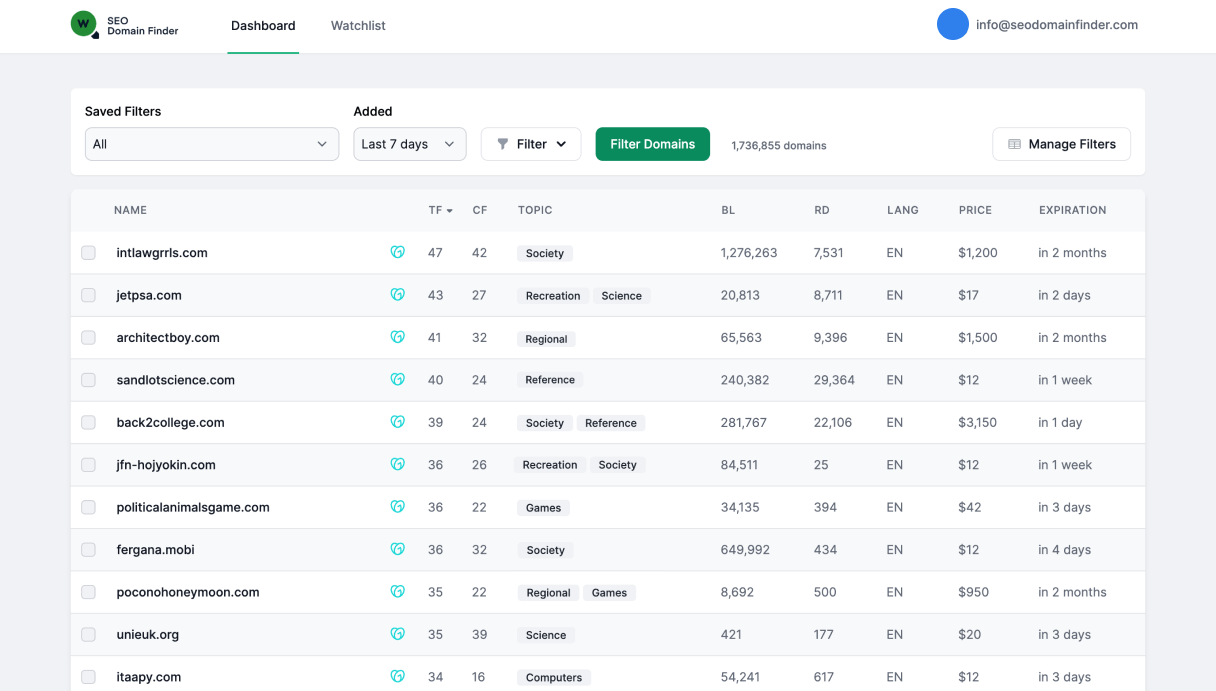 Domain Database
Clean Database of Domains Available for Purchase
Our database covers expired domain auctions at all major registrars, auctions at drop catching services, and daily deleted domains from 1000+ tlds. We filter domains daily and only show those available for purchase.
Auction Domains

Filter domains on auction with all major registrars and marketplaces.

Backorder Auctions and Deleted Domains

We track all major backorder marketplaces and auctions, plus daily deleted domains.

Large Database, Refreshed Daily

Over 200,000 new domains are analyzed daily with over 2 million domains in the database.

Only Available Domains

Daily registration check of all domains so we don't keep a database of unavailable ones.
Coming Soon
Filters and Research
Filter and Research Domains by Your Favorite Metrics
As many SEO metrics and historical details as you need. Easy-to-use filters that help you find that one domain for your next project.
Integrated Majestic and Moz metrics

Review DA, CF/TF, ratio, and the top backlinks. No other subscription necessary.

Web Archive and domain history

Wayback Machine screenshots, parking/drop records, and detailed domain history.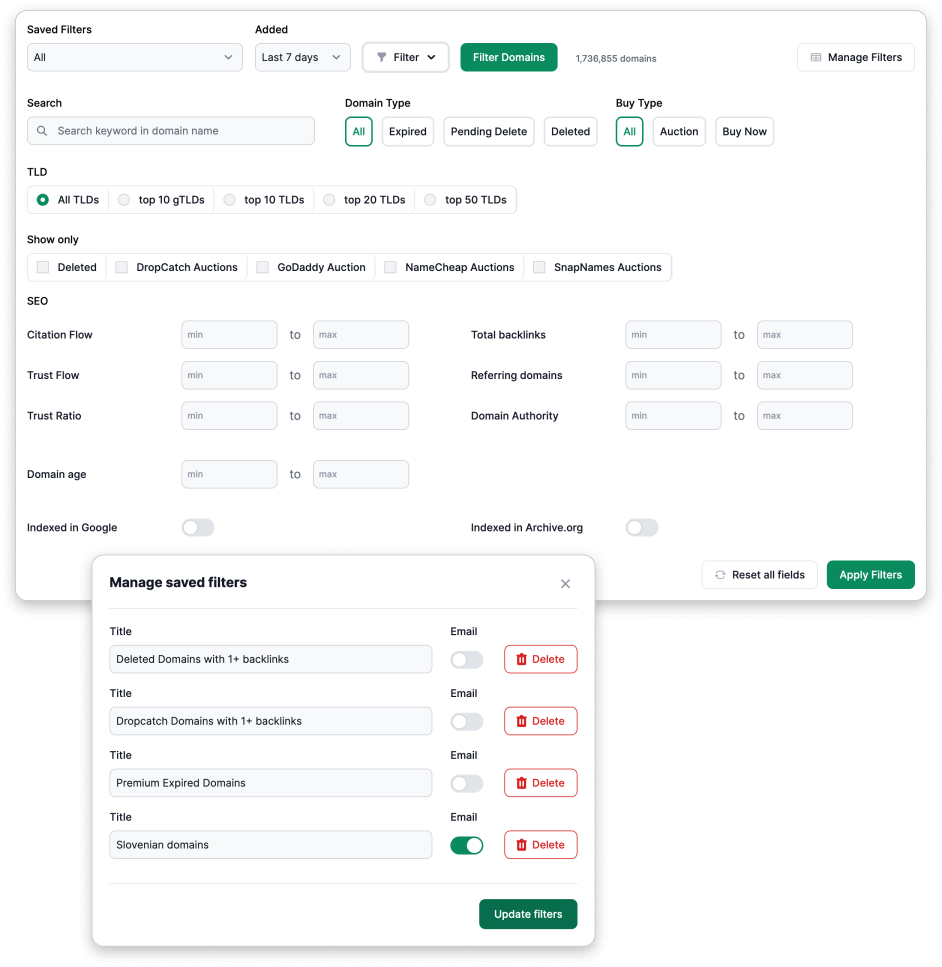 User Interface
Intuitive Three-Step Process to Researching and Purchasing Domains
Three steps so you can fly through domain review:
Click-select domains that have good base SEO metrics
Review selected domains in full historical detail and put them onto your watchlist
Review your watchlist and bid or purchase when ready
Pricing
Limited Time Offer: Huge Discount for Yearly Plan and Savings of 83% Compared to Our Competitors!
3-Day Free Trial and 30-Day Money-Back Guarantee on All Plans
Yearly
$349 /year
3 Months Free
All features
30-Day Money-Back Guarantee
Price includes tax.
Discover high-authority expired and deleted domains effortlessly with our comprehensive database and intuitive three-step process. Sign up now and start boosting your online presence!
Auction, Backorder, and Deleted Domains
Advanced Filtering
Integrated Majestic and Moz metrics
Modern and Intuitive Interface
We accept PayPal and all major credit cards

Shop with confidence
100% Secured Payment by Paddle
30-day money back guarantee - no questions asked!
We proudly offer a 30-Day Money-Back Guarantee, no questions asked. If you're not 100% satisfied within the first 30 days, we'll return your money, no fuss. Your satisfaction is our priority, and we stand by our promise.
Frequently Asked Questions
The three most popular options for expired domains are redirects, new sites, and blogs for a Private Blog Network (PBN).
Redirecting to your main site: If the expired domain has a solid backlink profile and is relevant to your main website, 301 (permanent) redirect it to your main site. This way, you transfer some of the link juice from the expired domain to your money site. For best results, create a page that has some relevancy to the aged domain, and redirect to it.
Build a niche website: Building a new website is hard. If you build it on an aged domain, you get immediate authority and will have a lot easier time ranking the site in the SERPs.
Build a Private Blog Network: Rebuild a site on the domain with relevant content and link back to your money site. Bonus points if you have multiple money sites in a niche, so you can reuse the blog many times.
Aged domains, also referred to as Expired or Expiring domains, are domain names that have not been renewed by their owners and have reached the end of the registration period. They might still be in the user's account at the registrar and sometimes the website and emails might still be working (though typically, the website is parked by the registrar).
In the context of the domain lifecycle, these domains enter two phases post their expiration date - first, the Auto-Renew Grace Period, which can last up to 45 days, and then, the Redemption Grace Period, which lasts up to 30 days. If domains get bids on an auction and aren't renewed by the owner, the owner loses them when they transition to the Redemption Grace Period.
Domains in these two phases are usually what you will find on registrar auctions. If they aren't successfully auctioned or renewed, they will move to the Pending Delete phase and eventually become Deleted (also known as Dropped or Released) Domains, making them freely available to be registered again.
To learn more, read our blog post about the Domain Life Cycle.
Deleted domains, also referred to as Dropped or Released domains, are domain names that have not been renewed by their original owner and have also not been successfully auctioned off by the registrar during the grace periods. After passing the Pending Delete phase, these domains are returned to the registry and become free to be registered again by anyone.
If a deleted domain was auctioned off on a domain dropcatching (or domain backorder) service, it will typically be re-registered within milliseconds.
Dropped domains, also referred to as deleted or released domains, are domain names that have gone through the full cycle of the domain lifecycle without being renewed by the original owner or successfully auctioned off by the registrar during the grace periods.
See above question for more information.
When evaluating an expired or deleted domain, these three elements are the most important:
Backlinks: The number and quality of backlinks to the domain. SEO Domain Finder will show you the top 10 links to the domain and their metrics.
Relevance: If you are acquiring a domain for a specific project or business, you'll want to ensure it is relevant to the industry or niche you are in.
Domain Age: Older domains are often viewed as more authoritative by search engines. Look for as few drops and parkings as possible.
In short - look for an old, relevant domain with lots of good backlinks.